Embark on a memorable pilgrimage to this holy temple, where all elements of nature combine to create an aura of spirituality.

About Muktinath
Muktinath is an important pilgrimage for Hindus and Buddhists alike. Hindus believe that a pilgrimage to Muktinath assures "mukti" i.e. freedom from the cycle of life and death.

The famous temple of Muktinath is situated in the district of Mustang in the north central part of Nepal, at an altitude of about 3710 meters from the sea level. The Pagoda style of the temple signifies its reverence by Hindus as well as Buddhists. Hindus fondly refer to this place as Muktichhetra, which means 'place of salvation'.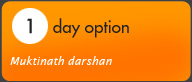 One day helicopter tour of Muktinath
Normally a several day hike from Pokhara, a short ride in one of our helicopters will allow you to complete this pilgrimage in one day from Pokhara. The Muktinath Temple also offers an opportunity to enjoy spectacular views of Dhaulagiri, Nilgiri, Lamjung Himal and Manaslu Himal.
Send enquiry now!